Media
Free Phone Service Connects Travelers to Nearest ER Vet Clinic
CatChannel.com, July 29, 2010 -- Through Labor Day, and possibly beyond, cat owners can call to find an emergency vet clinic during their travels. >>> Read More
Free Phone Service Connects Travelers to Nearest ER Vet Clinic
Veterinary Practice News, July 28, 2010 -- After Hours Assurance, a service of Atlanta-based On Call Solutions, has partnered with HealthyPet Magazine to provide a free phone service that connects travelers with the nearest emergency veterinary clinic. >>> Read More
Finding Emergency Veterinary Clinics Made Easier for Summer Travelers
ATLANTA, GA (July 22, 2010) - Help is close at hand for those who experience a pet emergency on the road this summer thanks to a free service, co-sponsored by After Hours Assurance and HealthyPet Magazine, that connects travelers with the nearest emergency veterinary clinic. >>> Read More
'On Call Solutions becomes newest member of VetPartners' Press Release, August 2009
ATLANTA (August 21, 2009) - On Call Solutions (OCS) took a big step toward achieving their goal of becoming the industry leader in helping veterinarians maximize their after hours services, with their partnership with VetPartners. Derrick Pittman, OCS's Chief Operating Officer, joined the industry-leading association on June 14, 2009 when he became the newest member of VetPartners. >>> Read More
On Call Solutions Press Release, June 2009
ATLANTA (June 26, 2009) - Thanks to an innovative new service, veterinary clinic owners across the country have an attractive new revenue opportunity for handling customer calls outside normal business hours, while also improving the quality of home life for on-call doctors. After-Hours Assurance, created by a veterinarian, is a first-of-its-kind, customized answering service and business-solution that enables vet clinic owners to provide fee-based consultation to pet owners needing immediate health advice for their animal when the clinic is closed. >>> Read More
Back to top
Articles
Why I choose to be an on call veterinarian.
Real clients reveal why they love their veterinary practice.
Veterinary Medicine Article Response
I recently read an article in the January issue of Veterinary Medicine and posted on dvm360.com titled: Our Profession's Identity Crisis, and felt compelled to submit this response. In the piece Dr. Allen offered a concise and troubling observation regarding the trend in our business to view ourselves either as slaves to the retail demands of our society, or as professionals who deserve to be treated like highly educated specialists and also enjoy a quality home life. Most practicing veterinarians today believe they must choose between sacrificing economic success or time with family (a growing concern given the high number of women in the profession who want to be with their families despite the pressures to pay off school loans.) Those of us following veterinary literature are keenly aware of this emerging concern. >>Read Full Response
Veterinary Economics Article Response
Veterinary Economics provided us with the current State of the Veterinary Industry report in the August 2009 issue. In the article titled "Learning to Leave it" the author featured interviews with three veterinarians who all expressed their preference for spending time with family over the pursuit of financial success. The statistics in the article support the perception that veterinarians currently practicing today, place a higher priority upon family demands, as 80% of men and 84% of women state they wish that they could devote more time to family. The veterinarians who took part in the study must be conflicted, as 75 % of men and 71% of women believe they successfully balance their job with their personal life. An overwhelming majority of the participants believe they have a balance, but want more family time. The anecdotal inclusions provide the reader with insight that financial and career sacrifices will likely need to be made in order to achieve this sense of balance, that's not "balanced" the way the veterinarian would really like it. >>Read Complete Article
Back to top
Events
Past Events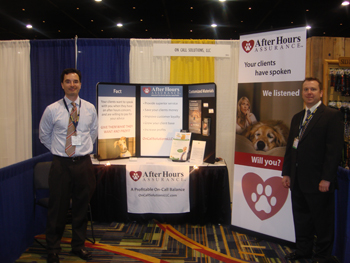 NAVC 2010!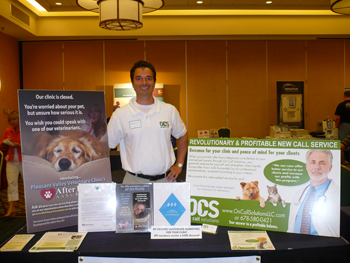 VPI Shareholder Meeting, Summer 2009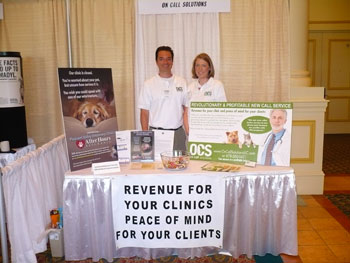 OCS Booth at GVMA 2009 Summer Conference
Midwest Veterinary Conference (MVC)
Booth #132
Columbus, OH
February 25-28, 2010
VPI Winter Shareholder Meeting
Atlanta, GA
January 24, 2010
The North American Veterinary Conference (NAVC) 2010
Booth #3911 in the Marriott
Orlando, FL
January 16-20, 2010
Northeast Louisiana Veterinary Medical Association (NELVMA)
Dr. Carmichael's CE presentation "Add Value to Your Practice, Increase Profits, and Save Your Clients Money"
Monroe, LA
November 12, 2009
South Georgia Veterinary Medical Association (SGVMA) Seminar
Tifton, GA
September 20, 2009
The Ohio State University College of Veterinary Medicine Alumni Reunion Weekend
Columbus, OH
September 11-13, 2009
CVC in Kansas City at the VetPartners booth
Kansas City, MO
August 30-31, 2009
3rd Keystone Veterinary Conference
Hershey, PA
August 13-16, 2009
Peter Piper Memorial Conference
Fort Myers, FL
August 1-3, 2009
VetPartners 2009 Mid Year Meeting
Seattle, WA
July 9-10, 2009
Veterinary Products Inc. Annual Shareholders Meeting
Atlanta, GA
June 14, 2009
Georgia Veterinary Medical Association (GVMA) 2009 Summer Conference
Sandestin, FL
May, 2009
Florida Veterinary Medical Association (FVMA) 2009 Annual Conference
Tampa, FL
April 2009
Georgia Veterinary Medical Association (GVMA) 2008 Fall Conference
Atlanta, GA
November, 2008
Back to top